Maintaining a balanced diet and healthy habits is no easy feat. However, with the guidance and support of a registered dietician, your weight, disease management, and lifestyle goals can be achieved!
At the Center for Medical Nutrition Therapy LLC, our mission is to foster a positive collaboration between our clients and our certified nutrition specialist that results in optimal individual results. We will work with you to design and help you follow a plan that leads to your success.
Our licensed dietician has been dedicated to transforming the lives of patients since 1996.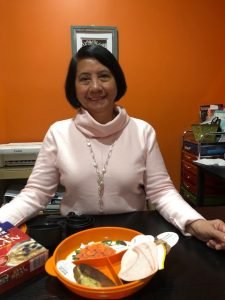 Marilyn R. Quintana, RDN, received her bachelor's degree in nutrition and dietetics from the University of San Carlos in 1976. She became a registered nutritionist dietician in 1996 and has been providing clients with expert nutrition counseling to help them achieve their ideal lifestyle ever since.
In September of 2013, Marilyn established the Center for Medical Nutrition Therapy LLC to give the people of Jersey City, NJ and its surrounding areas access to state-of-the-art nutrition consultation, therapy, and management services.
The Center for Medical Nutrition Therapy understands that individual goals can only be reached with planning and intervention tailored to the specific needs of each client.
No two bodies are the same, which means no two nutrition plans should be the same either. Our certified nutrition specialist will take the time to get to know you; learning about your medical history, existing dietary habits, activity levels, lifestyle, and personal needs and goals.
Using this information and the knowledge obtained from our extensive training and experience, we will create a custom nutritional plan to help you meet your unique goals. Because we understand that achieving your ideal lifestyle can be a challenging and intricate process, our team will continue to provide the crucial support and compassion you need until your ambitions have been realized.
A View Inside Our Office
From lifestyle & diet consultation, to specialized medical nutrition therapy, we can help you make the changes you need to in order to live a long, happy, and healthy life.
Don't wait to take the first step toward your ideal lifestyle when it comes to nutrition. Contact the Center for Medical Nutrition Therapy LLC in Jersey City, NJ today.
Let us provide the services you need to become the happiest, healthiest version of you!